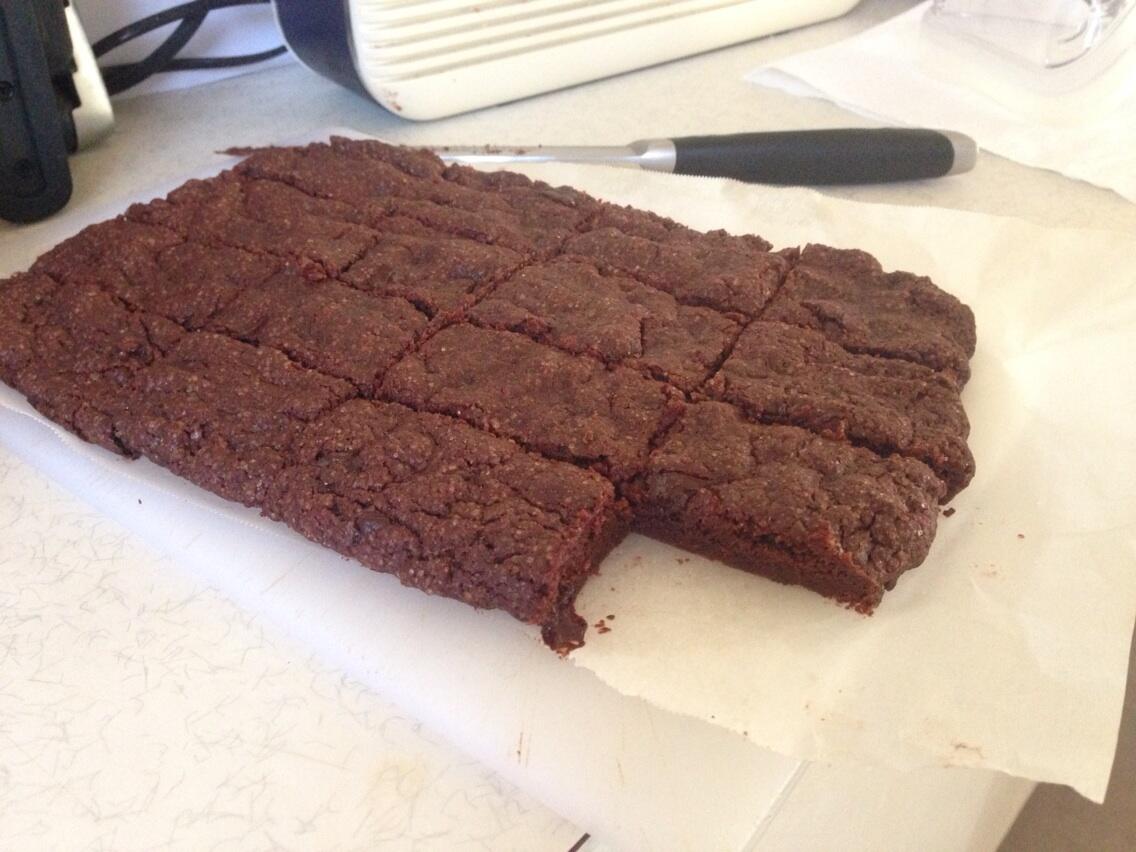 Hello maties!
 
I hope you are all safe and healthy out there in cyber-land.
 
I decided it was high time to try developing a good vegan brownie. I've drooled over recipes for long enough, trying to decide on raw vs. baked, black beans vs. zucchini, agave vs. sugar. The amount of options can make a girls head spin and, up till now, I've simply languished in indecisive misery with my store bought treats and 'too hard basket' attitude.
 
That was, until last Saturday when I suddenly felt adventurous and decided that yes, I WILL bake something today. I've really felt the urge to put things in the oven lately (edible things, silly….). I think the therapeutic quality of cooking is helping with my recent bereavement – there's nothing like the smell that fills the house, that aroma of baking which makes one feel oh-so-comforted, no matter what is happening in the existential.
 
Zucchini's/courgettes in hand, I marched myself to the oven and began my work. The picture, again not ideal, represents a very sweet treat indeed. Being the first attempt, I can see where I would make changes (slightly too sweet for my 85% dark chocolate tastes…) but my yogi's down at Live Life Well assured me they were absolutely divine.
 
As per the request of those peace warriors, here is the recipe. Enjoy!
Ingredients:
1 cup flour
1 cup raw sugar
1/2 cup cacao
1/2 tsp baking powder
1/2 tsp salt
1 zucchini
1/3 – 1/2 cup oil (I used olive for this attempt)
1 tsp vanilla
1/4 cup dark chocolate chips (fair trade if you can!)
Method:
Preheat the oven to 175c.
Mix the dry ingredients.
Finely grate the zucchini (you don't need to squeeze out the excess water)
Mix said zucchini with oil and vanilla
Add the wet to dry ingredients and mix well.
Fold in the chocolate chips, pour into a lined baking tin, put in the oven for 15 minutes
Sit in front of your oven and inhale, peaking through the glass if you are lucky enough to have an oven light. If not, visualization techniques will suffice.
Take out and let cool (TRY not to lick them!)
Gently cut and portion when cooled.
Eat them and give them to people who are nice to you. And to those who aren't because they will change their mind about you afterward!
Love x