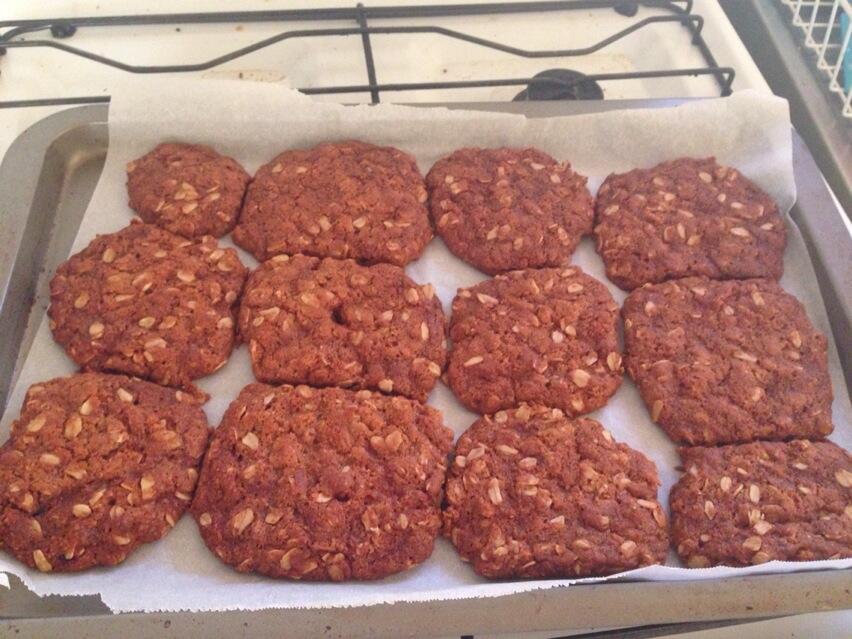 Okay, so last year I made Anzac biscuits. They were vegan, they were tasty and they were as unique as organic apples. I made them again on Friday and yes, they are a little unorthodox in shape but I ask you, what makes a biscuit the 'right' shape? Who wants to live in a world where every morning-tea snack is the same boring round construction? I have put my metaphorical foot down and said "I do not want to live in a cookie cutter world! I cannot conform, biscuits or otherwise!!" I made my mix, I waited, I fretted…..
And the above is what came out of my oven. I gave them to my grieving family and to my inspirational yoga teachers. They all smiled and I felt the type of love and peace that only comes from giving.
In my own trite way, I felt connected to those for whom these were originally made and for the 'giving' that they expressed in their deeds and sacrifices. I hope that they would have liked them too 🙂
Recipe:
1 cup rolled oats (organic if possible)
1 cup plain flour
1 cup dessicated coconut (optional)
3/4 cup of raw sugar
2/3 cup melted Nuttelex
2 Tbsp golden syrup
1 tsp bicarb soda
1 tsp boiling water
Method:
Preheat oven to 180c.
In a large bowl, mix the oats, flour sugar and coconut.
Melt the Nuttelex and golden syrup over low heat.
Mix the bicarb soda and hot water and add to the melted mix.
Pour wet ingredients into dry and mix well. Roll into balls and flatten slightly, placing them on one or two lined baking trays.
Bake for 15 minutes. Allow to cool. Gobble with a smile.
——-
I was so happy with these that I got my baking-confidence on and tried to make honeycomb from bicarb, golden syrup and sugar. This is what happened:
When my ego is re-inflated I may try again 😦
Stay tuned maties! xxx